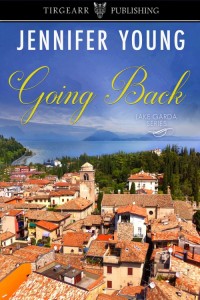 There are less than four weeks before the publication of Going Back, second in the Lake Garda series. It's on preorder now – you can pick it up for just 99p or 99c until it goes full price on publication day, 19 April.
The first book, A Portrait of my Love, tells the story of Skye, who travels to the lakeside resort of Sirmione with her wealthy and overbearing best friend, Leona Castellano, only to fall foul of Leona's interference in other people's business as she becomes enmeshed in the affairs of the Manfredi family, owners of the Hotel Villa Martino. One reviewer called it "one of those love stories that will make your heart melt".
Going Back picks up on the now-chastened Leona's continued attempts to put things right. She's learned her lesson, or thinks she has, but there are still ends to be tied up, still old wounds to be healed. With the dangerous confidence of youth, Leona sets out to put the world — or at least her part of it — to rights. Along the way she falls in love…and there are fatal consequences.
You might think the period before publication is a quiet one – all the work done, the book just waiting to burst upon the world. But an author never stops. I'm beavering away at the third in the series, title as yet undecided, which picks on the story of Giorgia, youngest and most put-upon of the Manfredi dynasty and her attempts to break free of duty and obligation.
More news coming, on the Lake Garda series and beyond. Watch this space…