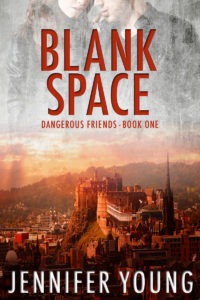 When Bronte O'Hara finds an injured man in her kitchen in the run-up to an international political summit in Edinburgh, a world she thought she'd left behind catches up with her. When the man makes his escape, the police seem less interested in finding out where he went and how he came to be there than they  are in Bronte's past – more specifically, her ex-boyfriend, Eden Mayhew. Eden's an anarchist, up to his neck in any trouble around – and he's missing. The police are keen to find him, certain that he'll come back. Who can she trust – and what has the Eden's disappearance got to do with the handsome stranger?
Blank Space is the first in the Dangerous Friends series. Set in Edinburgh, it features policeman Marcus Fleming and former radical activist Bronte O'Hara, whose ideological differences threaten to overwhelm the attraction between them.
Buy it here
Blank Space is due out in December but is currently available for pre-order on Amazon, Kobo and Smashwords.