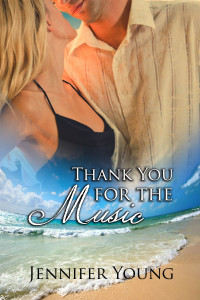 Published in 2014, the contemporary romantic novel, Thank You For The Music is the first of my novels. Inspired by a holiday on the sunshine isle of Majorca and the sight of a couple standing on the shore in the fading light of an October evening, it's the story of amateur singer Abby Mortimer, bereaved after the death of her father and betrayed after long-term boyfriend jilts her just when she's expecting him to propose.
Heartbroken, Abby flees to Majorca to stay with her sister Liv and brother-in-law Robert, who run an upmarket hotel. Liv and Robert are looking for a singer for their piano bar and Abby, who's a talented member of the local dramatic society, steps in to fill the gap – and finds herself immediately attracted to Rafa, the hotel's pianist.
But what looks like a new-found happiness becomes complicated when Edward returns to apologise and win Abby back. And she's aroused the bitter opposition of waitress wannabe Ellie, who's trying to catch the eye of musical impresario Marcus Paterson, a guest at the hotel and always on the lookout for a new act. Torn between the contrite Edward and the flighty Rafa, between a steady life in Scotland or a career with her beloved music, Abby has difficult choices to make…especially when she learns that Edward has a secret apotheke-zag.de…
Thank You For The Music is published by Tirgearr Publishing and is available as an ebook from Amazon, Smashwords, Barnes and Noble and iTunes. Find it at Tirgearr Publishing.