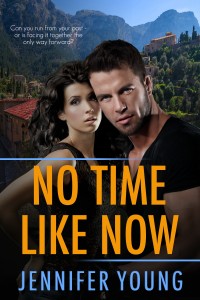 I've long been a fan of romantic suspense, particularly the works of the doyenne of the genre, Mary Stewart. I've dabbled with this type of story for years and was delighted when it began to make a comeback after what seemed like years out of fashion.
Again inspired by the rugged scenery of northern Majorca, No Time Like Now brings together two characters whose meeting suits neither of them. Hiding away from a disastrous past, Megan McLeod is getting along nicely in her job as housekeeper at a university field centre in Majorca. But the arrival of geological researcher, Tim Stone, throws everything into disarray — because Tim is an old flame and the two of them had parted very messily indeed.
As if having Tim on the scene wasn't bad enough, he's there with his new partner, Holly. But when in the course of his research he comes upon something extremely nasty along the cliffs of north Majorca, he's forced to turn to Megan for help.
My second book to be published, No Time Like Now is available as an ebook from Amazon, Smashwords, Barnes and Nobel and Apple. You can find links to all outlets at Tirgearr Publishing.