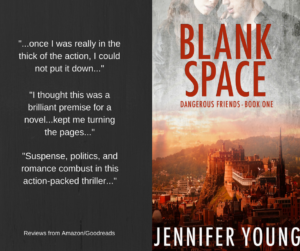 Blank Space, the first in my Dangerous Friends series, came out on 21st December – not, with hindsight, the smartest time to publish a book, and so it's hardly surprising that no-one had time to write any reviews over the festive season.
They're starting to creep in, now. As always, I'm apprehensive every time a I see a new review. What if someone doesn't like it? (Yes, authors are notoriously sensitive about their book-babies.)
But in general I love a review. I love the fact that someone bothered to take the time and the effort to let me – and the world – know what they thought of my book. And even the bad reviews, when they're constructive, aren't really bad viagra uden recept.
Anyway, I thought I'd share some of the first reviews for Blank Space – and hope there are many more.